Are you still here? I am sorry for not updating sooner. It seems like everything is just plain weird around here lately. The week started off so slow...and then seemed to get away from me. We are knee-deep in potty training. But, it's going well and we have come along way! The remodeling projects continue on and it looks like we may be seeing an end in sight in the next week or so. I am already thinking up new things for new rooms...Jason just rolls his eye and pretends to ignore me :)
We have church tomorrow at 8am! Then it'll be home for naps and it will be Monday before we know it. I hope that you are having a great weekend!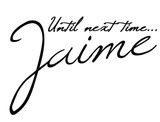 P.S. My last post brought over 300 people to my blog....isn't that insane??